Goddess Curry Chicken Salad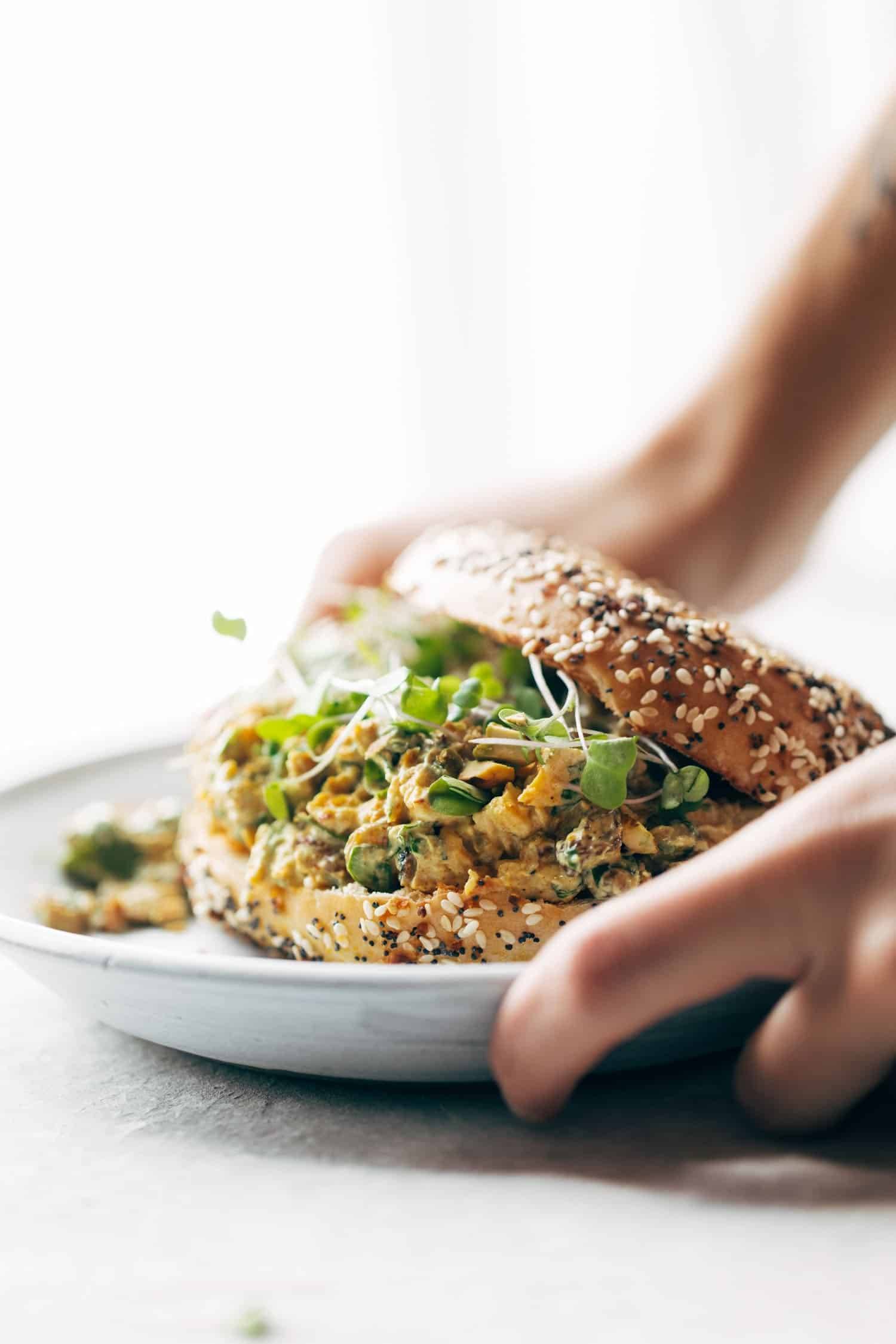 So… is it more or less goddess-y if it's served on an everything bagel?
More, I think.
Guys, I am normally not big into cold creamy salads (as we discussed with the avocado egg salad situation) but wow. This is my season to shine with these retro-ish salads. I think I sort of got on a kick when I revisited the egg salad after about a ten year boycott, and that has become my gateway into other cold creamy salads such as this lovely classic: Curry Chicken Salad.
HOW TO MAKE OUR CURRY CHICKENS SALAD (50 SEC):
But this is not your ordinary curry chicken salad – it's a GODDESS CURRY CHICKEN SALAD. Which basically just means I feel like the summer goddess of health and wellness when I eat this. Especially on an everything bagel. So, yes, my definitely of health and wellness goes a little bit outside the box sometimes.
Goddess Curry Chicken Salad really isn't all that different from a regular curry chicken salad, except no fruit – none of this apples or grapes or blueberries business – and no mayo. As you have seen from my love of Wild Rice Burgers, I have a healthy love and respect for good old fashioned mayonnaise. But if we're getting into the summer goddess zone? Goodbye, mayo. Greek yogurt feels like such a basic stand-in, but that's because it works. It's good. It is thick, creamy, and the added tang is a welcome addition to this salad, IMHO.
Real Chicken Talk: Either chicken, in general, is not awesome, or I am not very good at making awesome-tasting chicken. Is that weird to say? But THIS CHICKEN, you guys. I will never make another kind of chicken for salad toss-ins. I cut it in half horizontally, so the pieces were super thin, and then I loaded them with garlic powder, onion powder, curry powder, salt, and pepper. Sautéed in a little olive oil, and MWAH. Best chicken of my life. I even let it get a little extra browned on the outside because I play by my own rules.
Also invited to this Goddess Curry Chicken Salad party are:
Greek yogurt
olive oil
curry powder
pistachios
golden raisins
parsley, cilantro, basil, whatever the heck herbs you want. and this idea just came to me: MINT. please someone add some mint.
Hit that up with some salt and pepper, and a little more curry powder to taste, and zing! You've got goddess curry chicken salad magic on your hands.
It's practically a detox salad, except that dairy isn't really detox, and chicken.. well, whatever. Close enough, right? It's real food, clean eating, delicious summer curry chicken salad love.
And you know if you give a summer goddess some curry chicken salad, she's probably going to ask for an everything bagel. Just warning you.
Goddess Curry Chicken Salad
---
Author:

Lindsay
Prep Time:

15 minutes

Cook Time:

10 minutes

Total Time:

25 minutes

Yield:

4 servings
Description
This Curry Chicken Salad is super clean and SO delicious. Loaded with spiced chicken, golden raisins, pistachios, herbs, and Greek yogurt + olive oil as a stand-in for mayo.
---
Ingredients
1

lb. chicken breasts
curry powder, garlic powder, onion powder

3/4 cup

Greek yogurt

2 tablespoon

s olive oil or water

2 tablespoon

s honey
a handful of golden raisins
a handful of pistachios
a handful of cilantro and/or parsley
salt and pepper to taste
---
Instructions
Cook the chicken: Cut the chicken breasts in half horizontally so they are very thin. Sprinkle chicken with an even coating of curry powder, garlic powder, and onion powder. Season with salt and pepper. Sauté in a nonstick skillet over medium high heat until golden brown and cooked through. When cooled, chop the chicken into small pieces and chill in the fridge.
Assemble your Curry Chicken Salad: Once the chicken is cool enough, mix in a medium bowl with all remaining ingredients. Season to taste with more curry powder, onion powder, garlic powder, and (obvi) salt and pepper. Serve over greens, on a croissant, on toast, in a wrap, or my personal favorite: on an everything bagel.
---
Recipe Card powered by
One more thing!
This recipe is part of our best healthy spring recipes page. Check it out!
The post Goddess Curry Chicken Salad appeared first on Pinch of Yum.
---